What motivates you?
On a personal level it is wanting to be healthy enough (mentally, spiritually, physically, financially) to live a full, abundant life. Whether that is pushing myself at the gym or laughing over a meal with girlfriends, I want to thrive in the moment.
On a professional level it is seeing someone "get it;" it's that ah-ha moment when someone learns something new about themselves or others.
Describe yourself in 3 words:
Authentic. Audacious. Giving.
If you had the power to solve anything for people, what would you make disappear?
That's an easy one … shame. I've worked with everyone from CEOs to women coming out of Drug Court, on some level, one thing we all have in common is a feeling of inadequacy/shame. That feeling makes us put on masks and build walls between us. It's horribly destructive.
What's something you wish people did more of?
Play. We need more joy in our lives.
I wish everyone had a __________ like mine.
Laugh. Everyone needs to experience clearing a bar at least once in their lives.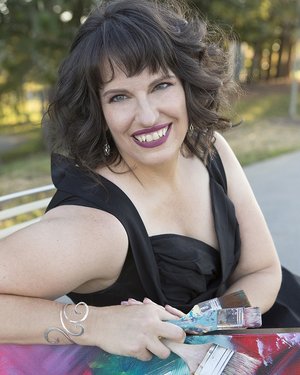 In my free time I enjoy________
Many things. A good meal with friends and lots of laughter. Silly girl time with my daughter. Puppy cuddles with my dog. As much time painting and dancing as I can get.
Describe yourself in a color......why did you choose that one?
There is a color with which I love to paint called Carmine. It's red with purple and pink tones to it. It's the best of me. It combines the boldness of red with the vibrancy of purple. And the pink adds a bit of calmness to it.
When did you begin to paint?
I started painting in 2013 as a way to help me deal with my PTSD. I found that I could communicate through color what I could not articulate verbally. It was an incredible way for me to process emotions and I began to release a creativity that I never knew I had.
What moved you to want to speak?
I started holding community workshops as part of a job I had over 20 years ago. Even though I was young, being with people and giving them information that was helpful felt "right." As I continued to develop that skill throughout my career I discovered I had a way to connect with people.
Over time the emphasis of my topics shifted and I began sharing wisdom I gleaned from others and lessons I learned from my own journey. People began telling me how much of a difference something I said made in their lives. At that point, there was no turning back.
If my being vulnerable can encourage someone else, then I will stand up and share until I have no voice left.
What job taught you the most? Why?
I have been working since I was 14 years old. Every job I held taught me something, many things. But I think one that taught me the most was when I worked in a grocery store. My husband and I had lost a successful consulting practice in a botched joint venture. We were devastated. We had 3 kids and 2 dogs at home. We had to do something.
The union that ran the store employees went on strike. Although we did not like crossing picket lines, our priority was feeding our family. I learned so much about being humble, standing my ground, and finding joy in something that was not enjoyable.

As an additional thought, this is one of my favorite quotes:
"Our deepest fear is not that we are inadequate. Our deepest fear is that we are powerful beyond measure. It is our light, not our darkness that most frightens us. We ask ourselves, 'Who am I to be brilliant, gorgeous, talented, fabulous?' Actually, who are you not to be? You are a child of God. Your playing small does not serve the world. There is nothing enlightened about shrinking so that other people won't feel insecure around you. We are all meant to shine, as children do. We were born to make manifest the glory of God that is within us. It's not just in some of us; it's in everyone. And as we let our own light shine, we unconsciously give other people permission to do the same. As we are liberated from our own fear, our presence automatically liberates others."
Read more about stephanie
Interested in booking me for your upcoming event?